A level success as we mark one year anniversary in new Sixth Form Centre of Excellence
Another successful year of A level and post-16 vocational results, with a large number of students gaining places at some of the leading Universities in the UK. These results mark the first academic year in the our brand new Sixth Form Centre of Excellence, with 300 students benefiting from the rapidly growing strength of our post-16 provision.
The results include excellent performances within the very highest grades, with 28.5% of all entries at A level or equivalent achieving either a grade A*, A or equivalent. This surpasses the aspirational 'value added' and progress targets set for individual students, and is a very good step forward from last year's figures.
We are delighted that both our average grade per student and average point score has increased from 2018, both in A levels and Applied General subjects. Early analysis of our results indicate a likelihood of progress made by our students, being placed in the top 10% nationally.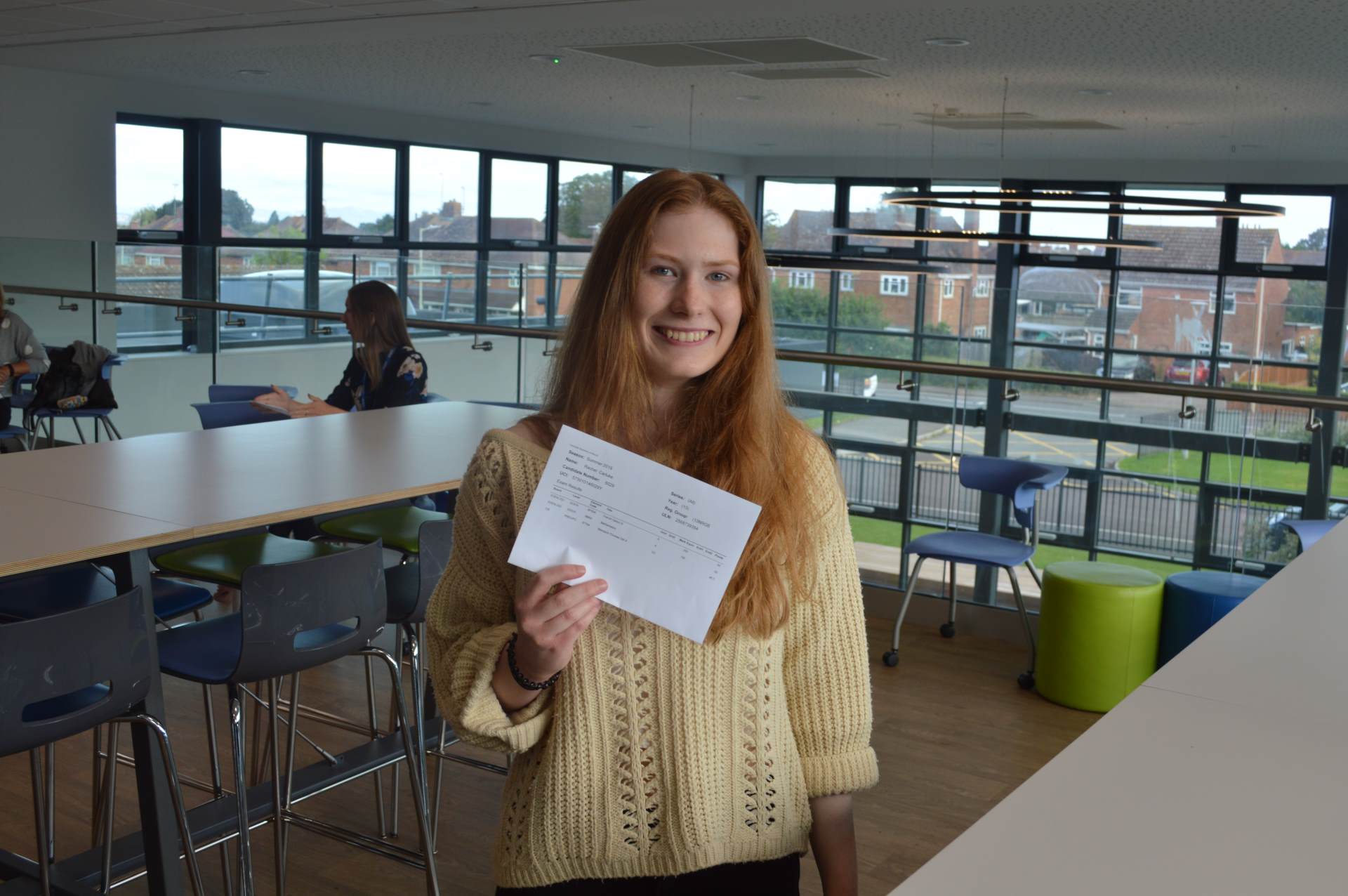 50% of all entries were graded A*-B and the pass rate within the Sixth Form Centre was 99.2%. As well as these headline figures, the Sixth Form is very pleased with the results achieved by our disadvantaged students and those with special educational needs, and students who came to us with initially lower GCSE grades. The hard work of these students has meant that these groups have made significant gains over their two years of Sixth Form study.
In summary, for the students that completed their Sixth Form studies this year:
28.5% of all entries gained A*-A or equivalent
50.0% of all entries gained A*-B or equivalent
76.8% of all entries gained A*-C or equivalent
99.2% of all entries gained A*-E or equivalent
Our hugely valued vocational qualifications in Sport, ICT, Business and Health and Social Care have been incredibly successful this year, with 64% of grades being at Distinction or higher, and 91% at Merit or higher, equalling 100% pass rate. We are confident our value added will remain extremely high in the national arena in this area.
These vocational results are particularly impressive, showing an increase in the % of Distinctions, despite all courses becoming more rigorous, with an increased exam element. Cleeve student, Joanna Sakhavi's, achieved the highest Vocational result in the cohort - outstanding Distinction*, Distinction*, Distinction*.
Vice Principal and Director of Sixth Form, Ben Slatter, was delighted with the results,
"The Sixth Form team will always hold such fond memories of our first cohort in the new Centre of Excellence. This year's results are a testament to the hard work of both our students and the staff at school who have supported them over the two years. We are very proud of the students and the exceptional pathways they are moving on to, as well as the progress that many have made with us, both in terms of their academic achievement and personal development, which is equally as important to us when
evaluating the success of the Sixth Form. The positive results achieved by these students are testament to their character and determination, as well as the support provided by school staff."
There are some exceptional individual performances that deserve a particular mention. Cleeve's best overall result comes from student, Alfie Howis achieved A*, A*, A, A, and will be studying Human and Social Political Sciences at Cambridge University. Seamus Keavy achieved A*, A*, A, A, and will be studying Mathematics at Birmingham University, and Matthew Button achieved A*, A*, A, going onto study Modern Languages at Exeter University.
We are delighted by the number of students who have been successful in gaining highly sought after School Leaver Programmes, Apprenticeships and Further Education colleges at nationally recognised institutions.
Alwyn Richards, Principal of Cleeve School said,
"These are once again an excellent set of examination results, particularly in terms of the progress the students have made from their varied starting points. These outcomes, across a range of Level 3 qualifications, reflect our continued high ambitions for our school and for our students. Our Sixth Form Centre of Excellence has been a wonderful new addition in terms of raising everyone's aspirations across the school, and these examination results show that the students are delivering on these raised standards and ambitions. It is a great time to be part of the Cleeve School community.
Well done to all the staff who have worked so hard and very special congratulations to all of the students who have achieved so well and now have so much to look forward to as they embark on the next stages of their lives".