CLEEVE School Uniform and PE Uniform
Students are required to wear the Cleeve School uniform which must be always worn in the correct manner, including on their journey to and from school. Any student who does not arrive at school in the correct Cleeve School uniform will be sanctioned and/or sent home to change into the correct uniform.
Uniform visuals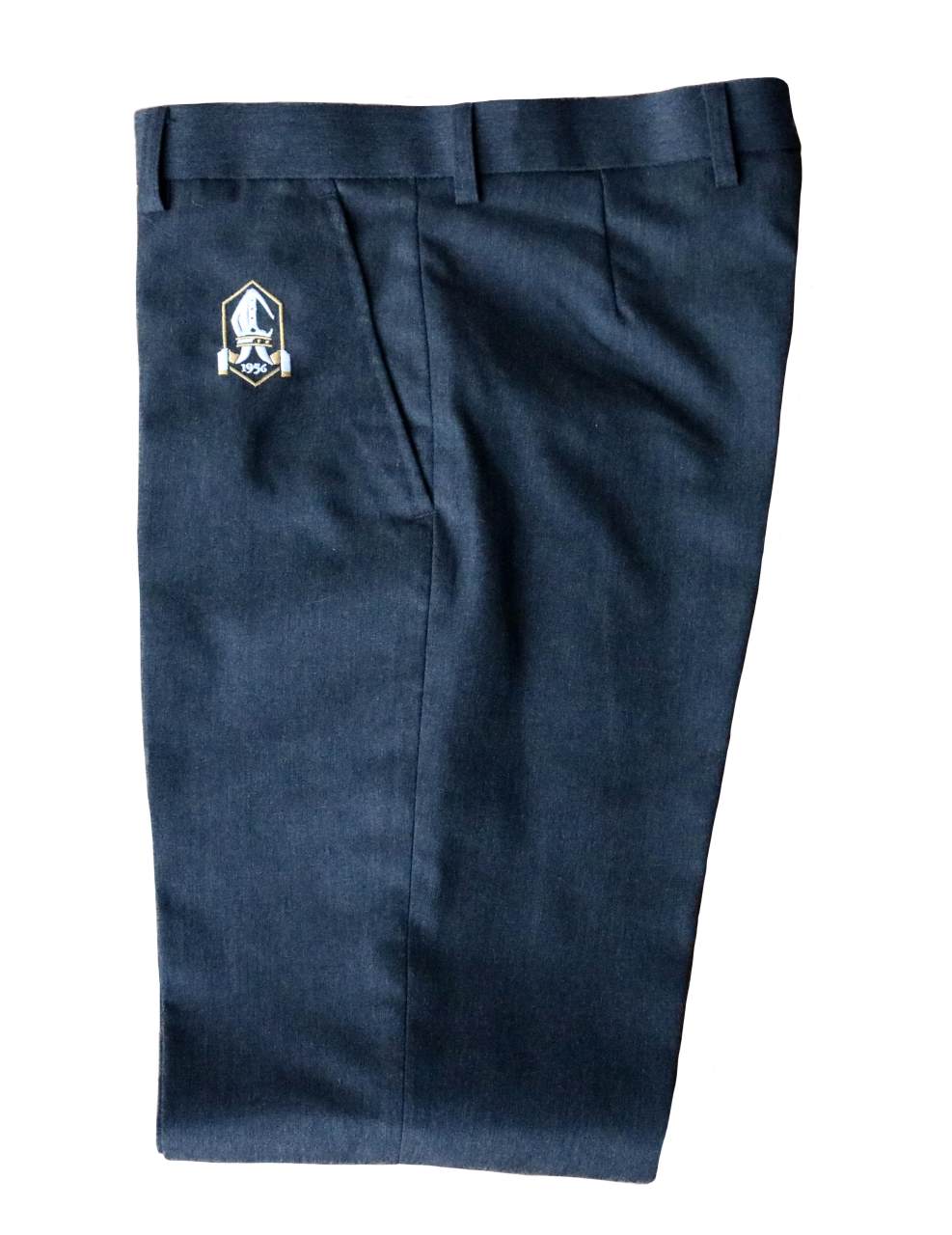 Holmes Attenborough Nightingale Shackleton Rowling Year 11 (with College colour stripe)
Monkhouse are our school uniform and P.E Kit provider. All compulsory items should be purchased through this supplier.
Monkhouse
252 High Street
Cheltenham
GL50 3HF
Website: www.monkhouse.com
Telephone: 01242 523632
Our supplier strongly recommends that you bring your child into the shop when choosing the uniform to ensure that it fits correctly and according to the new guidelines.
Second hand uniform can be purchased through the 'Sell & Swap Uniform and Resources for Schools In Bishop's Cleeve' Facebook group, run by parents. This group is not directly associated with Cleeve School but is available for parents/guardians to sell and buy second hand Cleeve School uniform here.
School Uniform Requirements

A School for All: Any student is permitted to wear whichever version of the school uniform that they feel most comfortable in.

Blazer with embroidered badge

Navy

Uniform supplier from £36.00

Plain white shirt with long or short sleeves

White

Purchase from any store

College tie – with College colour stripe (Years 7-10)

Various

Uniform supplier from £8.25

Gold tie (Year 11 only)

Gold

Uniform supplier from £7.95

*Pleated skirt with embroidered badge

Grey

Uniform supplier from £17.50

*Trousers with embroidered badge

Grey

Uniform supplier from £19.50

Socks / Tights

Grey or Black only

Purchase from any store

Grey v-neck jumper

(Optional)

Grey

Purchase from any store

Sensible school shoes (see notes below)

Black

Purchase from any store
*Please note that grey trousers and skirts can only be purchased from one of our two uniform suppliers and must have the embroidered badge. High street, plain grey trousers/skirts, are not permitted.
Shoes
School shoes must be a black sensible style school shoe and low heeled. Students are not permitted to wear a black plimsoll, 'sports branded' or games-type of shoe, this includes trainers.
All students
Make-up: No younger student should wear make-up. Discreet use of make-up (eg colourless nail varnish) is allowed in school from Year 9 upwards.
False eyelashes, acrylic nails/nail extensions, lipstick/lip-gloss, blusher, eye-shadow and heavily pencilled eyebrows are not permitted to be worn in school.
Jewellery: If students have pierced ears, only single, plain studs or sleepers may be worn in school. Only one stud or sleeper in each ear. No other form of ornamentation is permitted.
Hairstyles: Must be neat and tidy and of a natural colour. It should not be excessively short (below a Grade 2) or cut with lines or patterns.
PE UNIFORM
PE Uniform Requirements

All PE uniform (unless otherwise specified) must be purchased from one of our two approved uniform suppliers. Students are permitted to wear whichever versions of the essential items that they feel most comfortable in.

Item

Colour/Details

Supplier

ESSENTIAL FOR ALL

Sports Polo with embroidered badge and college name transfer

White and Navy

Uniform provider

Ankle socks (plain)

White

Any

Cleeve Sport Sock embroidered

Yellow with Navy text on back of the leg

Uniform provider


One of these MUST be worn depending on preference- Sport Shorts, approved Base Layer Leggings or Skort - all from uniform suppliers.

Approved Base layer leggings can be worn underneath Sport Shorts or Skorts but this is optional depending on personal preference.

Navy

Uniform provider


Rugby or Football boots


Any

Any

Shin Pads


Any

Any

Boys' PE lessons only- Rugby reversible shirt including print badge

Navy and Yellow

Uniform provider


OPTIONAL

Track Pants (For fixtures, NOT to be worn during lessons)

Navy

Uniform provider

Cleeve Sport Hoodie

Navy

Uniform provider

EXAMINATION KIT (GCSE/BTEC and A Level PE students only)

Examination PE Polo

Examination PE Zipped Tracksuit Top

Navy

Navy
Jewellery in PE Lessons
The Association for Physical Education (afPE) strongly recommends the practice of removing all personal effects at the commencement of every PE lesson to establish a safe working environment . This applies to all ear and body piercings, including retainer and expander earrings. Therefore, students are asked to ensure that all jewellery is removed prior to every PE lesson.
If you have any questions regarding the school uniform please email info@cleeveschool.net or contact Main Reception during school hours on 01242 672546.
How do I apply for a Uniform Grant?
The Uniform Grant is a one-off payment of £80 for a child transferring into Year 7 at Cleeve School in September 2023. To qualify you must be in receipt of any one of the following:
Income Support
Income Based Job Seeker's Allowance
Support provided under part VI of the Immigration & Asylum Act 1999
Child Tax Credit, provided you are not entitled to Working Tax Credit and have an annual household income that does not exceed £16,190


The Guaranteed element of State Pension Credit


Employment & Support Allowance, Income Related • Universal Credit


In receipt of Free School Meals
If your application for a grant is successful, payment will be made to your bank account by BACS. Payments for the School Uniform Grant will be made from 11.07.23 onwards. Please note no payments will be processed between 31.07.23 and 29.08.23 due to school holidays.
The application deadline is Friday 27th October 2023.
If you would like to apply for the School Uniform Grant, based on the above, please send your request for an application form to finance@cleeveschool.net